The Page One Collective focuses on spreading the word/s of and about political prisoners past and present.  Our name comes from the Bureau of Prisons (BOP) justification for rejecting a letter sent to a U.S. held political prisoner:  "Page one calls for solidarity".
We aim to put out a regular newsletter every two months, you can find back issues here.
—-
What is a political prisoner?
We recognize that all incarceration is somehow political, but we choose to focus our limited time, energy, and resources on political prisoners, who are individuals incarcerated specifically for actions taken as a part of or in solidarity with left leaning political movements. This means folx involved in liberation and freedom struggle movements such as black liberation, indigenous resistance, earth and animal liberation, and anarchist struggles to name a few.  For a more in-depth analysis and a bunch of related resources, please visit the website of the New York City Anarchist Black Cross.
—
Black Lives Matter! Black Liberation Matters!
Download a printable zine of currently imprisoned veterans of Black Liberation movements. Print and hand out at protests! Send it to your mom. Spread the word. Write these folx, bring up their names, keep their struggles alive.
*Print double sided along short edge*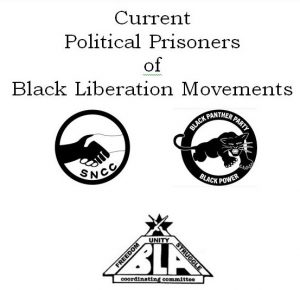 ---